Research
---
The Irma Lerma Rangel School of Pharmacy research is at the forefront of clinical discovery, focusing on multiple key areas including specialized pharmaceutical delivery and drug development, while leading diagnostic studies into cures for cancer and other chronic diseases that are prevalent in our world today.
Opportunity Available to Pre-Review RO1 Applications
Faculty members are encouraged to utilize a pre-review process to have their R01 application edited by professional scientific writers and seek experts' opinions. The Associate Dean for Research & Innovation will be responsible for contacting outside experts for their consultation to assist with the grant application. Faculties are encouraged to submit the complete application two months before the submission date to utilize this resource. Each faculty may use this opportunity once.
Contact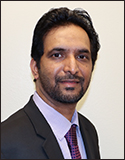 Chendil Damodaran, PhD
Associate Dean of Research and Innovation
Texas A&M Rangel School of Pharmacy
159 Reynolds Medical Bldg., MS 1114
College Station, Texas 77843
Phone: 979.436.0495
chendamodar@tamu.edu