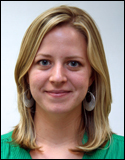 Clinical Assistant Professor of Pharmacy Practice
Contact
Texas A&M Irma Lerma Rangel College of Pharmacy
MEC 3rd floor - Rm 303G
2401 South 31st Street
Temple , TX 76508
char.farris@tamu.edu
Phone: 254.724.4028
Fax: 254.724.1731

Education and Training
Scott & White Memorial Hospital, Temple, Texas, Hospital Pharmacy Practice Residency, 2010
University of Texas at Austin College of Pharmacy, PharmD, 2009
Southwestern University, Georgetown, Texas, Board Certified Pharmacotherapy Specialist, 2012
Research Interests
Competency based education
Self-directed learning
Quality improvement in the hospital setting
Optimizing delivery of pharmaceutical care
Authentic assessment strategies
Teaching Interests
Internal Medicine
Cardiology
Infectious Disease
Preceptor Development
Leadership Development
Representative Publications
Mogaka B, Clary D, Hong C, Farris C, Perez, S. Medication reconciliation in the emergency department performed by pharmacists. Baylor University Medical Center Proceedings. 2018 Sept 24; 31(4):436-4.38.
Farris C, Bowman J, Demps E, Koo C, Boyle P. A case study in a pharmacy therapeutics course. In L. Santos Green, J.R. Banas, & R. Perkins (Eds.), The flipped college classroom: Conceptualized and re-conceptualized. New York: Springer.
Koo C, Demps E, Farris C*, Bowman J, Panahi L, Boyle P. Impact of flipped classroom design on student performance and perceptions in a pharmacotherapy course. Am J Pharm Educ. 2016 Mar 25; 80(2):33.
Koo CL, Demps EL, Bowman JD, Farris CA, Panahi L, Boyle P. Implementing and assessing a blended learning model in an integrated pharmacotherapeutic course [abstract]. In: Proceedings of Annual Meeting for Association of American Colleges of Pharmacy; 2013 July; Chicago, IL.
Oyetayo OO, Farris CA, Wahawisan J. Proton pump inhibitors and the prevention of recurrent GI bleed in patients treated with clopidogrel. Clinical Medicine Insights: Therapeutics. 4, 9-17.