Academics
---
The Irma Lerma Rangel College of Pharmacy provides an engaging education with hands-on training to prepare our professional student pharmacists for the ever-changing world.
What makes an Aggie pharmacist?
Pharmacists play a vital role in the health care system, caring for the well-being of patients in a broad range of clinical and community settings. Rangel School of Pharmacy students develop the knowledge, skills and experience of professional pharmacists, all while working to adhere to Texas A&M University's core values:
Excellence, Integrity, Leadership, Loyalty, Respect and Selfless Service.
Professional Pharmacy Degree Programs
Our four year, fully accredited Doctor of Pharmacy (PharmD) program provides students a foundation to be general practitioners with the core knowledge and skills needed to provide pharmaceutical care. PharmD graduates pursue careers as pharmacists in clinical, hospital and retail pharmacy, managed care, governmental agencies, nuclear pharmacy and many other health care fields.
We also offer our PharmD students an opportunity to earn a Master of Business Administration (MBA) while working towards their PharmD degree. Students interested in owning or managing a pharmacy are encouraged to consider this program. PharmD students are eligible to apply for the Double Degree program at the beginning of their second year.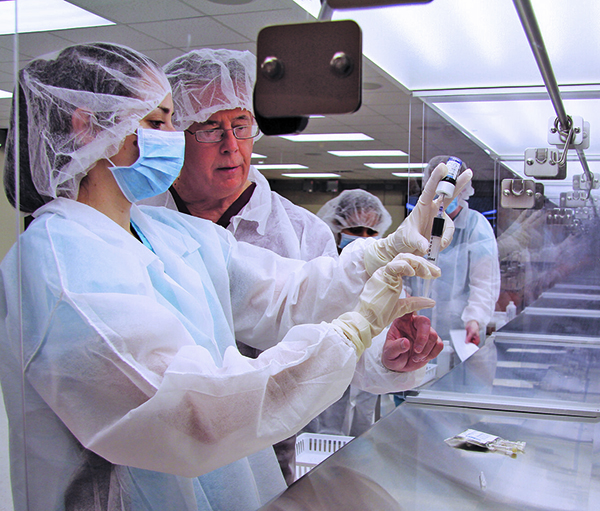 Experiential Education
Our Doctor of Pharmacy students learn by doing, beginning in their second year. The school maintains a ratio of one faculty member for every nine students, ensuring that each student receives an individualized education as they earn their PharmD. Combining foundational courses and laboratory work with advanced pharmacy practice experiences gives our students the tools to become highly competent health care professionals.
P1: First Year
P1 students begin learning the basics of how medications work and what diseases and illnesses certain medications treat.
Experience: Preparation and certification for rotations
P2: Second Year
P2 students begin the Integrated Pharmacotherapy (IPT) series: Eight in-depth courses on how to choose the right medication for the job.
Experience: One hospital and one community pharmacy rotation
P3: Third Year
P3 students continue their IPT series, plus take courses in poison management, patient care, pharmacy professionalism and clinical pharmacokinetics.
Experience: Mini-rotation in a hospital or community pharmacy
P4: Fourth Year
During rotations across regions and disciplines, P4 students further their clinical knowledge, patient counseling skills and understanding of pharmacy practice.
Experience: Six 6-week rotations led by licensed pharmacists
A valuable investment in your future
The PharmD program at Texas A&M offers a high-quality, student-centered education with the lowest tuition of all pharmacy schools in Texas, and is ranked the #2 most affordable pharmacy program nationwide.
Our students succeed
We offer a full spectrum of academic support—beginning with first semester mentoring and continuing through graduation—to help students transition successfully to their professional environment and receive maximum benefit from their pharmacy school experience. Our outcomes are proven:
of students complete degree requirements within four years
of students pass the NAPLEX exam on their first attempt
of graduates are licensed to practice pharmacy in Texas
of graduates are employed in pharmacy or a residency program in Texas
ASPIR2E Program
Aggie Student Pharmacists Initiative for Recruitment/Retention and Education
Through the four-track ASPIR2E program, we develop promising undergraduate students into competitive pharmacy school applicants. We then help admitted students successfully transition to the rigors of the PharmD education and become Aggie pharmacists.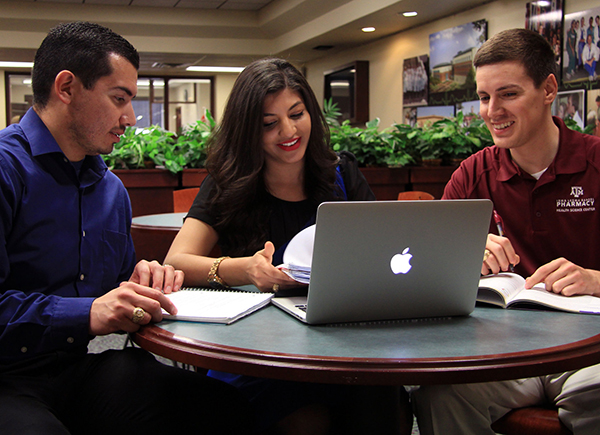 Become part of our story.
NOTICE
As required by Texas Education Code, the Board of Regents of The Texas A&M University System will hold a public hearing to receive input from students regarding the proposed new undergraduate tuition and fee structure as shown in Agenda Item 1.1 for Texas A&M University, Texas A&M University at Galveston, and Texas A&M Health Science Center to be effective with the Fall 2023 Semester. This hearing is for students to provide input to the Board of Regents and will be scheduled during the November 10, 2022, Board Meeting, Memorial Student Center (MSC), Bethancourt Ballroom 2300 (D&E), 275 Joe Routt Boulevard, Texas A&M University, College Station, Texas. Students wishing to provide public testimony on proposed increases should follow the guidelines as set forth-in Policy 02.01 (paragraph 2) posted on the Board's website.