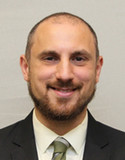 Associate Dean for Clinical and Professional Affairs
Contact
1010 W. Ave. B
Kingsville , TX 78363
abu-baker@tamu.edu
Phone: 361.221.0660
Fax: 361.221.0794

Education and Training
Albany College of Pharmacy and The Endocrine Group LLP, Ambulatory Care/Adult Medicine/Endocrinology Residency, Albany, New York, 2003-2004
Albany College of Pharmacy and Health Science, Albany, New York, PharmD, 2003
Professional Certifications
AHRQ TeamSTEPPS Master Trainer Certificate (2016)
APhA Medication Therapy Management Train-the-Trainer Certificate (2016)
American Association of Colleges of Pharmacy Academic Leadership Fellows Program (2014)
Anticoagulation Practice Based Certificate Program (2010)
Research Interests
Disease State Management in the Ambulatory Care Setting
Curricular Design and Methodology
Incorporating Interprofessional Education into the Curriculum
Teaching Interests
Endocrine Disorders
Ambulatory Care Practice
Professional Communication
Interprofessional Education
Introductory Pharmacy Practice Experiences (IPPE)
Representative Publications
Abu-Baker A, Lavigne JE. Developing Population Based Health Literacy and Pain Management Quality Improvement through Community-Based Data Collection in Sequential Community Experiential Education Rotations and a Required Population Based Healthcare Course: Tools and Pilot Outcomes. Peer-reviewed workshop. International Social Pharmacy Workshop. Boston, MA. August 2014. Research and Social & Administrative Pharmacy. Sept-Oct 2014. Vol 10:5:E73-E74.
O'Brocta R, Abu-Baker A, Budukh P, Gandhi M, Lavigne J, Birnie C. "Exposing Pharmacy Students to a Continuous Professional Development (CPD) Process".  Am J Pharm Educ 2012;76(2):Article 29.
Sukkari SR, Sasich LD, Tuttle DA, Abu-Baker AM, Howell H. "Implementation and assessment of a required patient safety course in the Doctor of Pharmacy curriculum". American Journal of Pharmaceutical Education. 2008; 72 (3) Article 65.
Stroup J, Kane M, Abu-Baker A. "Teriparatide in the treatment of osteoporosis". Am J Health-Syst Pharm. 2008 Mar 15; 65 (6):532-9.