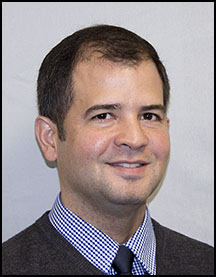 Adjunct Associate Professor of Pharmaceutical Sciences
Contact
Mail Stop 1114
159 Reynolds Medical Building
College Station , TX 77843
jhern001@tamu.edu
Fax: 979.436.0087

Education and Training
University of Maryland, School of Pharmacy, Ph.D. in Pharmacoepidemiology, 2007
University of Maryland, School of Medicine, M.S. in Epidemiology and Preventive Medicine, 2007
University of Puerto Rico, School of Public Health, M.P.H. in Epidemiology, 2001
University of Puerto Rico, School of Pharmacy, Bachelor of Science in Pharmacy, 1999
University of Puerto Rico, Bachelor of Science in Chemistry, 1996
Research Interests
Pharmacotherapy and Transitions of Care
Suboptimal Prescribing among Geriatric Patients
Compliance with Evidence-Based Guidelines
Validation Methods for Administrative Claims Use in Research
Teaching Interests
Pharmacoepidemiology
Pharmacoeconomics
Research Methods
Biostatistics
Evidence-Based Medicine
Awards, Recognition and Service
Guest Speaker, Medication Therapy Management, Universidad Autónoma de San Luis De Potosí, Mexico, 2011
American Public Health Association (APHA), Medical Care Section, Program Planner, 2009-2010.
University of Maryland, Dr. Arthur Schwartz Award, 2007.
Guess Speaker, Suboptimal Prescribing among Elderly Patients, Chulalongkorn University, Bangkok, Thailand, 2006
University of Maryland, Global Health Research Award, 2005.
University of Maryland, Program Enrichment Fellowship, 2004-2006.
Pfizer Global Epidemiology, Student Fellow, Barcelona, Spain, 2004.
Food and Drug Administration, Center for Drug Evaluation and Research, Student Fellow, 1998.
Representative Publications
Martes-Martínez C, Méndez-Sepúlveda C, Millán-Molina J, Duconge-Soler J, Marín-Centeno, French-Kim M, Rivera-Miranda GC, Hernández-Muñoz JJ. Cost-utility Study of Warfarin Genotyping in the VACHS Affiliated Anticoagulation Clinic of Puerto Rico. Puerto Rico Health Sciences Journal. 2017, 36(3): 165-172.


Figueroa-Rios, D., Hernandez-Munoz, J. J., Garcia-Albarran, A., Garcia-Rodriguez, E. A., Mendez-Hernandez, G., & Velez-Rivera, S. M. (2017). Prevalence of Concurrent Prescribing of ACE-Is and ARBs among Beneficiaries of Puerto Rico's Government-Sponsored Health Care Plan During 2012 and 2013. P R Health Sci J, 36(2), 71-76.


Velez-Rivera, S. M., Hernandez-Munoz, J. J., Davis, S. M., Almodovar, M. G., & Mercado, J. R. (2016). NSAIDs Prescription Prevalence after a Cardiovascular Event Related Hospitalization in Medicaid Beneficiaries from Puerto Rico. P R Health Sci J, 35(4), 209-214.


Jiménez-Ramírez, F.J., Hernandez-Munoz, J. J., Lorenzo-Gonzalez W., Perez-Caban, Y., Soto-Toledo, K., Saavedra-Diaz, T.J., Velez-Rivera, S.M. (2015). Community Pharmacy Centered Rural Mobile Diabetic Retinopathy Screening Service. Journal of Endocrinology and   Diabetes, 2(2), 8.


Allende-Vigo, M., Pérez, C., Hernandez-Munoz, J. J., Torres, C., Valle, Y., Rosario, R., & Suárez, E. (2013). Unequal Burden of Diabetes and Hypertension in the Adult Population of the San Juan Metropolitan Area of Puerto Rico. Journal of Diabetes & Metabolism, 4(4).


Max, . K., Hernandez-Munoz, J. J., Sturpe, D. A., & Zuckerman, I. H. (2007). Prophylaxis for Opioid-Induced Constipation in Elderly Long-Term Care Residents: A Cross-Sectional Study of Medicare Beneficiaries. Am J Geriatr Pharmacother, 5(2), 129-136. 


Zuckerman, I. H., Sato, M., Hsu, V. D., & Hernandez-Munoz, J. J. (2007). Validation of a Method for Identifying Nursing Home Admissions Using Administrative Claims. BMC Health Serv Res, 7, 202.


Zuckerman, I. H., Hernandez-Munoz, J. J., Gruber-Baldini, A. L., Hebel, J. R., Stuart, B., Zimmerman, S., & Magaziner, J. (2005). Potentially inappropriate prescribing before and after nursing home admission among patients with and without dementia. Am J Geriatr Pharmacother, 3(4), 246-254.