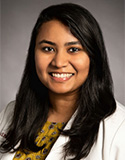 Clinical Assistant Professor of Pharmacy Practice
Contact
Texas A&M Irma Lerma Rangel School of Pharmacy
Memorial Hermann Texas Medical Center/Medication Therapy and Wellness Clinic 6414 Fannin St., Suite G100
Houston , TX 77030
phpatel@tamu.edu
Phone: 765.337.4433
Fax: 713.677.7705

Education and Training
Central Arkansas Veterans Healthcare System, Little Rock, Arkansas, PGY-2 Ambulatory Care Residency, 2016
Central Arkansas Veterans Healthcare System, Little Rock, Arkansas, PGY-1 Pharmacy Practice Residency, 2015
University of Arkansas for Medical Sciences, Little Rock, Arkansas, Pharmacy Teaching Certificate, 2015
Purdue University, West Lafayette, Indiana, Doctor of Pharmacy and Bachelors in Pharmaceutical Sciences, 2014
Research Interests
Outcomes-based research
Evidence-based practice
Didactic and experiential teaching methodologies
Interprofessional education
Teaching Interests
Endocrinology and metabolic diseases
Anticoagulation management
Pulmonary and rheumatic diseases
Representative Publications
Farris C, Diec S, Patel PH, Samuel N. Qualitative analysis of pharmacy students self-identified preconceptions about the term "Clinical Pharmacy". Am J Pharm Educ Nov 2022, 9026; doi: 10.5688/ajpe9026.
Horseman M, Panahi L, Udeani G, Tenpas AS, Verduzco R, Patel PH, et al. Drug-induced hyperthermia review. Cureus 2022;14(7):e27278. DOI: 10.7759/cureus.27279.
Patel PH, Ho T, Upadhyay SM. A systematic review of warfarin use in post-bariatric surgery patients: Cases compiled from a literature review. Ann Pharmacother. 

2022 Jun 14:10600280221105312. doi: 10.1177/10600280221105312. Epub ahead of print. PMID: 35699512.

Patel PH, Jou T, Ali A. Identifying, assessing, and reporting human trafficking in a healthcare setting. TJHP 2021;20(3):17-22.
Diec S, Patel PH, Samuel NG, Hernandez-Munoz JJ. Student Perceptions of non-technical skills development during advanced pharmacy practice experiences. Curr Pharm Teach Learn. ePub ahead of print. https://doi.org/10.1016/j.cptl.2021.09.016.
Patel PH. A mom pharmacist working during the pandemic. J Am Pharm Assoc. ePub ahead of print. https://doi.org/10.1016/j.japh.2021.08.017.
Patel PH, Nguyen M, Rodriguez R, Surani S, Udeani G. Omecamtiv Mecarbil: A Novel Mechanistic and Therapeutic Approach to Chronic Heart Failure Management. Cureus 2021;13(1):e12419. DOI 10.7759/cureus.12419.
Patel PH, Surani S. The COVID-19 Treatment Soup: Is Combination Therapy Better? Acta Scientific Medical Sciences 2020;4(8):01.
Patel PH, Dickerson KW. Impact of the Implementation of Project Re-Engineered Discharge for Heart Failure at a Veterans Affairs Hospital at the Central Arkansas Veterans Healthcare System. Hospital Pharmacy 2018;53(4):266-271.
Krause JE, Anastasia AD, Patel PH, Trevithick AR, Beal JL, Park J. The Prescription Drug Abuse and Misuse Epidemic: Information and Resources for the Pharmacist. Indiana Pharmacists Alliance Continuing Pharmacy Education 2014;Article 3.
Book Chapter
Jelena Stojšić, Pulmonary Embolism, Chapter Title. Anticoagulants in the Management of Pulmonary Embolism, Ladan Panahi, George Udeani, Michael Horseman, Jaye Weston, Nephy Samuel, Merlyn Joseph, Andrea Mora, Daniela Bazan and Pooja Patel. September 2021, Books, IntechOpen. ISBN ISBN 978-1-83969-967-2.