Dear College of Pharmacy students and guests;
Congratulations graduates!  You have worked hard to achieve the goal of earning your degree and now it's time to celebrate your accomplishment!  Commencement is a milestone—one of life's landmark occasions, a time when graduates, family members, and friends gather to celebrate the past and the future. 
Family and friends, you are invited to celebrate the Class of 2023 as we recognize the many achievements of the graduating class. We are excited to share preliminary information to assist you in making arrangements.  Please note that details may change as additional information is confirmed. Please refer to this page often for updates.
Commencement Date
Saturday, May 20, 2023, 10 a.m.
Rudder Auditorium, in the Rudder Theater Complex, Texas A&M University, College Station, Texas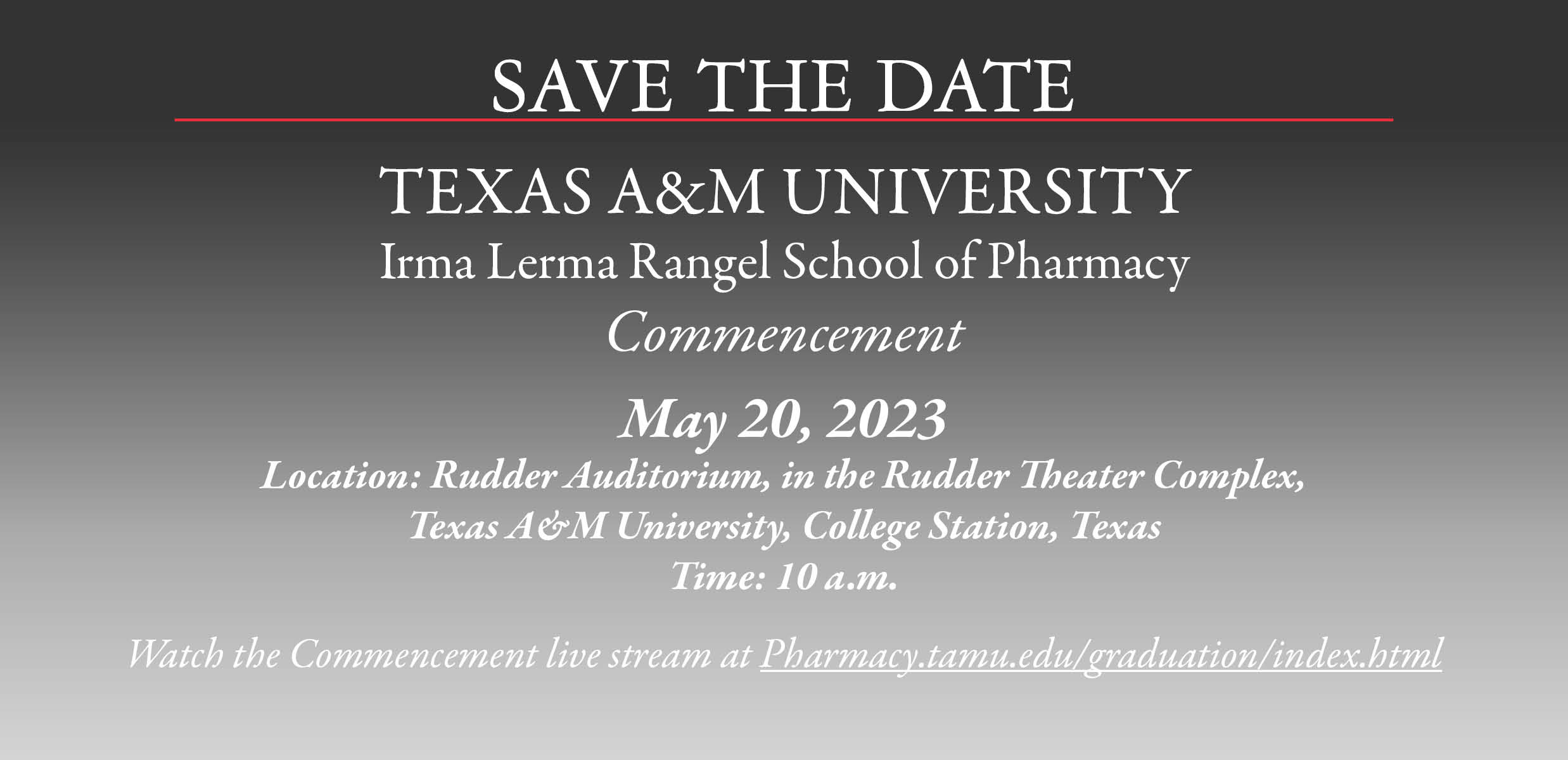 Commencement Live Stream Information
Texas A&M's television station, KAMU-TV, will broadcast each of the commencement to the web for family and friends to view if unable to attend the ceremony. The College of Pharmacy ceremony will be available for viewing directly on this page "live" on May 20, 2023. Please visit this page the day of the event where the live stream link will be shared using multiple platforms making it accommodating for all virtual guest.
Graduation Security and Safety Procedures
As the College prepare for the upcoming commencement exercise, we are actively planning for the health and safety of our graduates, families and loved ones who will attend this momentous occasion. It is our top priority to ensure a safe and memorable experience for all involved. Therefore, all safety procedures will be enforced.  There is an expectation for all attendees comply with current university , local , state , and federal guidance during the ceremony to protect the health and safety of all involved. 
Security and Bag Check
To ensure the safety of every guest, visitors may be subject to security and bag checks before entering the Commencement venue. This information is being provided as a preliminary precaution that delays are possible due to increased security measures. We recommend checking back periodically for more information, as further details are pending.
We regret any inconvenience our increased security causes, but our primary goal is the safety of our students, their families and guests, and our faculty and staff.  Thank you for your understanding.
Noisemaker Policy
Every graduate would like for family and friends to hear his or her name called when receiving their degree. We kindly ask that air horns or extra loud noisemakers not be used during the ceremony.
Photography
Flash Photography is the official Commencement photographer for the ceremonies at Rudder Auditorium. Graduates will be photographed once on stage and again individually off stage. Proofs will be e-mailed and mailed to each graduate the week after the ceremony with available packages for purchase. If you have any questions, please contact the photographer at 1-800-410-8070 or directly via their web page www.FlashPhotography.com .
Diploma Frames
Barnes & Noble Bookstore at Texas A&M University is the official on-campus bookstore and located in the Memorial Student Center (MSC) first level. Information and online ordering may be found at tamu.bncollege.com .
USA Diploma Frames. For additional information, visit  https://www.usadiplomaframes.com/  or call them directly at 214.763.3361. USA also have been invited to set-up on the day of Commencement and display diploma frame options for purchase.
AGGIELAND OUTFITTERS. They have 3 locations in College Station.  Visit their website for additional information and location directions.
ADA Accommodations
Seating is available inside Rudder Auditorium for patrons needing ADA Accommodations.  These accommodations must be reserved and requested in advance with the Box Office in order to properly assign and socially distance all seating assignments. If special seating requirements are needed, the graduate making the reservation  must inform the Box Office.
The Commencement ceremony is well attended. We highly encourage any guest needing ADA Accommodations to arrive at the auditorium early. An early arrival will allow us to seat you at your assigned seat prior to the doors opening to the general public at 1:00 pm. If you need assistance or have a question about accommodations, please contact the MSC Box Office at 979-845-1234 or email tickets@msc.tamu.edu.
Parking
For ceremonies held in College Station, there are many parking spaces available on campus and near Rudder Auditorium. There will be a $5.00 cash per entry fee to park in the University Center Garage (UCG).. The garage will be set up for this $5 cash parking method or you may purchase a prepaid parking pass (plus applicable fees & taxes) via the ParkMobile App or click link https://tamu.pmreserve.com/  
Handicapped parking is available with the appropriate parking permit. For Texas A&M University main campus parking questions, please contact Transportation Services at 979-862-7275 (PARK).
Lots 62 , 48 and 59 , located next to Kyle Field and other open lots within walking distance to Rudder Auditorium are FREE on weekends, and after 5 pm on Friday, unless it is a RESERVED space.  
Further Questions
For assistance with further questions, please contact the Office of Student Affairs at 979-436-0720,  srobinson@tamu.edu or 361-221-0642, chelsie.mcmillon@tamu.edu .