The White Coat Ceremony is a meaningful tradition that signifies a student's transition into the clinical years of the pharmacy program. During the ceremony, students who have completed the first year of the program are donned a white coat; a recognized symbol of clinical serve and patient care. Students also recite the Pledge of Professionalism to publicly acknowledge their willingness to meet the professional expectations established by the pharmacy community.
The White Coat Ceremony, as it is known today, first began at the Columbia University College of Physicians and Surgeons and has been adopted by numerous colleges and schools involved in educating and training students interested in a wide range of health and medical related professions. The Texas A&M Rangel School of Pharmacy held its first White Coat Ceremony in 2007 and the tradition continues today.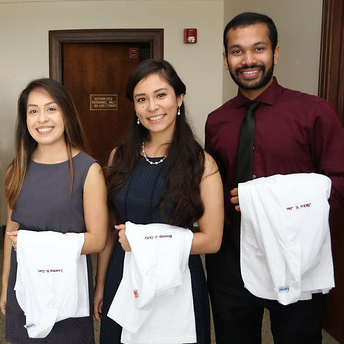 Class of 2026 White Coat Ceremony
Dear Class of 2026, family members and visitors:
 Our top priority is the safety of our students, faculty, and staff. Restrictions will remain in effect for large group gatherings in the fall. While these restrictions may be relaxed in the coming months, it is imperative that we plan for our event to be virtual to reduce any possible risk.