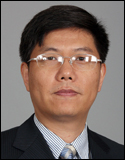 Associate Professor of Pharmaceutical Sciences
Contact
Texas A&M Irma Lerma Rangel School of Pharmacy
1010 W. Ave. B
Kingsville , TX 78363
lzhu@tamu.edu
Phone: 361.221.0757
Fax: 361.221.0793
Lin Zhu's Lab

Education and Training
Northeastern University, School of Pharmacy, American Cancer Society Postdoctoral Fellow, 2013
Northeastern University, School of Pharmacy, Postdoctoral Research Associate, 2010-2012
University of Tennessee Health Science Center, PhD, Pharmaceutics, 2010
China Pharmaceutical University, China, Master of Science, Pharmaceutics, 2003
China Pharmaceutical University, China, Bachelor of Engineering, Pharmaceutics, 1997
Research Interests
Development of novel drug delivery systems and nanomedicine for small and macro molecules.
Design and synthesis of functional polymers/conjugates for drug delivery.
Targeted and stimulus-responsive delivery of therapeutic and imaging agents.
In vitro and in vivo characterization of drug delivery systems/therapeutics.
Cancer therapy.
Teaching Interests
Pharmaceutics
Dosage forms and drug delivery systems
Biopharmaceutics
Pharmacokinetics
Nanomedicine
Awards, Recognition and Service
NIH/NCI R15 Award. Title: Improving tumor specificity and overcoming drug resistance of proteasome inhibitors by a dual-targeted drug delivery system. Role: PI. 2018-2021
Grant reviewer: NIH Special Emphasis Panel ZRG1 BST-F (80), 2019; The Israel Science Foundation, 2018; Czech Science Foundation, 2017
Controlled Release Society (CRS) T. Nagai Postdoctoral Research Achievement Award, 2014
American Cancer Society-Ellison Foundation Postdoctoral Fellowship, 2013
AAPS Graduate Student Symposium Award in Biotechnology, 2009
University of Tennessee Student Travel Award, 2009
AAPS Travel Awards in Biotechnology, 2008 & 2009
Patents
Zhu L, Perche F, Torchilin VP, "Copolymers for the delivery of drugs into cells", November 30, 2012 (U.S. No. 61/731,951 & International No. PCT/US2013/072216)
Zhu L, Torchilin VP, "System for delivery of siRNA and co-delivery of siRNA and drug into MMP-expressing cells" November 4, 2013 (U.S. No. 61/899,511)
Representative Publications
Zhu L, Ye Z, Cheng K, Miller DD and Mahato RI*, Site-specific Delivery of Oligonucleotides to Hepatocytes after Systemic Administration. Bioconjugate Chemistry, 2008, 19(1), 290-298.
Zhu L, Huo Z, Wang L, Tong X, Xiao Y, Ni K*, Targeted Delivery of Methotrexate to Skeletal Muscular Tissue by Thermosensitive Magnetoliposomes, International Journal of Pharmaceutics, 2009, 370(1-2),136-143.
Zhu L, Mahato R*, Targeted Delivery of siRNA to Hepatocytes and Hepatic Stellate Cells by Bioconjugation, Bioconjugate Chemistry, 2010, 21(11), 2119-2127.
Zhu L, Kate P, Torchilin VP*, Matrix Metalloprotease 2-responsive Multifunctional Liposomal Nanocarrier for Enhanced Tumor Targeting, ACS Nano, 2012, 6 (4), 3491–3498.
Wu H, Zhu L, Torchilin, VP*, pH-Sensitive Poly(histidine)-PEG/DSPE-PEG Copolymer Micelles for Cytosolic Drug Delivery, Biomaterials, 2013, 34(4):1213-1222.
Zhu L, Wang T, Perche F, Taigind A, Torchilin VP*, Enhanced Anticancer Activity of Nanopreparation Containing a Novel MMP2-sensitive PEG-drug Conjugate and Cell-penetrating Moiety, PNAS, 2013, 110 (42), 17047-17052.
Perche F, Biswas S, Wang T, Zhu L, Torchilin VP*, Hypoxia-targeted siRNA Delivery, Angewandte Chemie, 2014, 53(13):3362-6.
Zhu L, Perche F, Wang T, Torchilin VP*, Matrix Metalloproteinase 2-sensitive Multifunctional Polymeric Micelles for Tumor-specific Co-delivery of siRNA and Hydrophobic Drugs, Biomaterials, 2014, 35 (13), 4213-4222.
Tu Y, Zhu L*, Enhancing Cancer Targeting and Anticancer Activity by a Stimulus-sensitive Multifunctional Polymer-drug Conjugate, Journal of Controlled Release, 2015, 212, 94-102.
Dai Z, Tu Y, Zhu L*, Multifunctional Micellar Nanocarriers for Tumor-targeted Delivery of Hydrophobic Drugs, Journal of Biomedical Nanotechnology, 2016, 12, 1199-1210.
Dai Z, Yao Q, Zhu L*, MMP2-sensitive PEG-lipid Copolymers: A New Type of Tumor-targeted P-glycoprotein Inhibitor, ACS Applied Materials & Interfaces, 2016, 8 (20), 12661-12673.
Yao Q, Gutierrez DC, Hoang NH, Kim D, Wang R, Hobbs C, Zhu L*, Efficient Codelivery of Paclitaxel and Curcumin by Novel Bottlebrush Copolymer-based Micelles, Molecular Pharmaceutics, 2017, 14 (7), 2378–2389.
Yao Q, Dai Z, Choi JH, Kim D, Zhu L*, Building stable MMP2-responsive multifunctional polymeric micelles by an all-in-one polymer-lipid conjugate for tumor-targeted intracellular drug delivery, ACS Applied Materials & Interfaces, 2017, 9 (38), 32520–32533.
Yao Q, Choi JH, Dai Z, Wang J, Kim D, Tang X, Zhu L*, Improving tumor specificity and anticancer activity of dasatinib by dual-targeted polymeric micelles, ACS Applied Materials & Interfaces, 2017, 9 (42), 36642–36654.
Wang J, Lee JS, Kim D, Zhu L*, Exploration of Zinc Oxide Nanoparticles as a Multi-target and Multi-functional Anticancer Nanomedicine, ACS Applied Materials & Interfaces, 2017, 9 (46), 9971–39984.
Yao Q, Kou L, Tu Y, Zhu L*, MMP-responsive "smart" drug delivery and tumor targeting, Trends in Pharmacological Sciences, 2018, 39 (8), 766-781. (Cover Article)
Liu Y, Zhi D, Wang J, Tu Y, Zhu L*, Folate-targeted pH-sensitive bortezomib conjugates for cancer treatment, Chemical Communications, 2019, 55, 4254-4257.
Yao Q, Liu Y, Kou L, Tu Y, Tang X, Zhu L*, Tumor-targeted drug delivery and sensitization by MMP2-responsive polymeric micelles, Nanomedicine: Nanotechnology, Biology and Medicine, 2019,19, 71-80.
Complete List of Published Work:
https://www.ncbi.nlm.nih.gov/sites/myncbi/12gZubvuq1VQX/bibliography/46795826/public/?sort=date&direction=ascending .
Google Scholar:
https://scholar.google.com/citations?user=iNqdyjMAAAAJ&hl=en