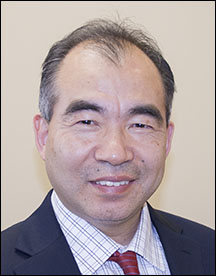 Associate Professor of Pharmaceutical Sciences
Contact
Texas A&M Irma Lerma Rangel School of Pharmacy
Mail Stop 1114 159 Reynolds Medical Bldg.
College Station , TX 77843
erxiwu@tamu.edu
Phone: 254.724.3785
Fax: 254.724.5779

Education and Training
Harvard Medical School , Instructor in Pediatrics, 2008
Harvard-MIT Division of Health Sciences and Technology, Research Fellow (NLM fellowship) in Health Sciences and Technology, 2005-2007
Children's Hospital Boston, Harvard Medical School Staff Scientist and faculty member, 2005-2008
Dana-Farber Cancer Institute, Harvard Medical School , Research Associate in Medicine, 1998-2004
Massachusetts Institute of Technology (MIT) , Special Graduate Student in Modern Medicine, 2007-2008
Sheffield University Medical School , Ph.D. students in Human Metabolism and Clinical Biochemistry, 1995-1998
Research Interests
Cancer (brain tumors, neuroblastoma, pancreatic cancer, etc.) therapeutics targets, cancer stem cell biology
Therapeutics of neurodegenerative diseases
Blood biomarkers in cancer and other diseases
Drug binding targets, drug discovery, and natural products; Pharmacogenomics
Awards, Recognition and Service
President, the International Association of Biological and Medical Research (IABMR), 2002-2003)
President, Sino-American Pharmaceutical Professional Association-New England (SAPA-NE) , 2003-2004)
Vice President, Sino-American Pharmaceutical Professional Association (SAPA), 2003-2004
Guest Editor, Special Issue (Hot Topic), Current Medicinal Chemistry, 2002-2003
Invited Speaker, Shanghai 2004 Bio-Forum/Tri-Conferences, 2004
Outstanding Leadership Award, IABMR, 2005
Board Director of Chinese-American BioMedical Association (CABA), 2007-present
Editor-in-Chief, Newsletters, Association of Chinese Americans in Cancer Research (ACACR), 2017-present
Pioneer Award, Chinese-American BioMedical Association 10th Annual Conference, 2017
Ad Hoc Reviewer for over 50 scientific journals, e.g., Science Advances, Cancer Research, etc.
Representative Publications
Li J, Qi D, Hsieh TC, Huang JH, Wu JM, Wu E*. Trailblazing perspectives on targeting breast cancer stem cells. Pharmacology & Therapeutics. Jan 7. 2021. doi: 10.1016/j.pharmthera.2021.107800.
Ding X, Wang XX, Xia D, Liu H, Tian H, Fu Y, Chen Y, Qin C, Wang J, Xiang Z, Zhang Z, Cao Q, Wang W, Li J, Wu E, Tang B, Ma M, Teng J, Wang X. Impaired meningeal lymphatic drainage in patients with idiopathic Parkinson's disease. Nature Medicine. Jan 18, 2021. doi:10.1038/s41591-020-01198-1.
Li Y, Burgman B, Khatri I, Pentaparthi S, Su Z, McGrail D, Li Y, Wu E, Eckhardt G, Sahni N, Yi SS. e-MutPath: Computational modelling reveals the functional landscape of genetic mutations rewiring interactome networks. Nucleic Acids Research. Nov 19, 2020. doi: 10.1093/nar/gkaa1015.
Ding X*, Zhou L, Jiang X, Liu H, Yao J, Zhang R, Laing D, Wang F, Ma M*, Tang B, Wu E*, Teng J*, Wang X*. Propagation of pathological α-synuclein from the urogenital tract to the brain initiates MSA-like syndrome. iScience. Jun 26; 23(6): 101166. 2020. doi: 10.1016/j.isci.2020.101166.
Wang X, Ma M, Zhou L, Jiang X, Hao M, Teng RKF, Wu E, Teng J, Tang B, Li J, Ding X. Autonomic ganglionic injection of α-synuclein fibrils as a model of pure autonomic failure α-synucleinopathy.  Nature Communications. Feb 18, 2020. doi: 10.1038/s41467-019-14189-9
Wang F*, Zhou S, Qi D, Xiang S, Wong ET, Wang X, Fonkem E, J Yang, Hsieh T, Kirmani B, Shabb JB, Wu JM, Wu M, Huang JH*, Yu W*, Wu E*. Nucleolin is a functional binding protein for salinomycin in neuroblastoma stem cells. Journal of the American Chemical Society. Jan 28, 2019. doi: 10.1021/jacs.8b12872.
Wang F*, Zheng Z, Guan J, Qi D,  Zhou S, Shen X, Wang F, Wenkert D, Krmanil B, Solouki T, Fonkem E, Wong ET, Huang JH*, Wu E*. Identification of a panel of genes as a prognostic biomarker for glioblastoma. EBioMedicine. Oct 16, 2018. doi: 10.1016/j.ebiom. 2018.10.024.
Li X, Wang Z, Ma Q, Xu Q, Liu H, Duan W, Lei J, Ma J, Wang X, Lv S, Han L, Li W, Guo J, Guo K, Zhang D, Wu E, Xie K. Sonic hedgehog paracrine signaling activates stromal cells to promote perineural invasion in pancreatic cancer. Clinical Cancer Research. Aug 15; 20(16):4326-38. 2014. doi: 10.1158/1078-0432.CCR-13-3426.
Zhang D, Ma Q*, Wang Z, Zhang M, Guo K, Wang F, Wu E*. β2-adrenoceptor blockage induces G1/S phase arrest and apoptosis in pancreatic cancer cells via Ras/Akt/NFκB pathway. Molecular Cancer. Nov 26, 2011. doi: 10.1186/1476-4598-10-146.
Zhang H, Bajraszewski N#, Wu E#, Wang H, Moseman AP, Dabora SL, Griffin JD, Kwiatkowski DJ. PDGFRs are critical for PI3K/Akt activation and negatively regulated by mTOR. Journal of Clinical Investigation. 2007 Mar;117(3):730-738. 2007. (#equal contribution). doi: 10.1172/JCI28984.
For a complete list of publications and citations click here:
https://www.ncbi.nlm.nih.gov/myncbi/1879uTMkmytQu/bibliography/public/
https://scholar.google.com/citations?user=VNKRIF0AAAAJ&hl=en