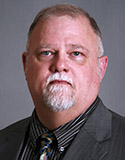 Stephen
"Eric"
Grayson
, PharmD
Clinical Assistant Professor, Department of Pharmacy Practice
Contact
Texas A&M Irma Lerma Rangel College of Pharmacy
2101 Pease St., Valley Baptist Medical Center
Harlingen , TX 78550
eric.grayson@tamu.edu
Phone: 956.793.0108
Fax: 361.221.0794

Biography
Stephen Grayson, PharmD, assistant professor of pharmacy practice in Harlingen, Texas, finds it most rewarding to observe a student discover, document and then resolve a significant intervention with the physician. 
"When students intervene, on behalf of a patient, to improve a patient's care or prevent harm … everyone wins," he said. "That's a real thrill."  
When students practice with him, he wants students to walk away with how to care for the patient, not just do the job.
"Secondly, they need to walk away with an understanding that practicing in our profession requires a culture of dedication to the patient which requires a discipline for self-learning," Grayson said.    
He said the mission of the college is best served through ownership of being a professional. 
"If my students learn to incorporate the things that the college calls core values (Care, Compassion, Competence, Community, and Collaboration) into their own practice of pharmacy, I believe the mission will be served," he said. "I try to be a good example of someone who is doing this."    
He contributes a considerable amount of experience in the profession. He has practiced in multiple settings, including hospital, community, management, administration, home infusion, hospice care, ambulatory infusion, oncology, and of course, clinical practice. 
"I'm not really sure if that is unique in any way because the college faculty has extensive clinical experience but what I am sure of, is the students respond with considerable excitement when they have the opportunity to learn from someone with an extensive background in the profession," he said.  
Grayson is certain that the profession of pharmacy is headed for change. 
"I believe medication therapy management, or MTM, services are likely to be the next big influence on the profession," he said. "Beyond that, it's a guessing game. We will not know where the profession is heading until we get the Affordable Care Act behind us (one way or the other)."   
Grayson has both a bachelor's degree and a doctoral degree (PharmD) in pharmacy. His achievements are primarily from working in the profession and are related to his work experience. 
"Most of the different areas of practice that I've been involved with were projects or programs I was able to take part in creating and then growing to maturity," he said. "Additionally, I had the opportunity to achieve management or administrative level experience in most of these areas. That experience has provided me with an understanding of the clinical, business, and 'people' side of things. I think that may be the most special thing I bring to my current role. I also have the distinct privilege of being able to practice and teach in my home town."
Education and Training
University of Texas at Austin, PharmD, 2002
University of Texas at Austin, Bachelor of Science in Pharmacy, 1985
Professional Certifications
Director of Pharmacy, Solara Hospital Harlingen/Brownsville
Department Manager, Home Infusion Therapy Pharmacy, Valley Baptist Medical Center
​Director of Pharmacy, Home Infusion Pharmacy, Cardinal Health
Department Manager, Outpatient Pharmacy, Valley Baptist Medical Center
Assistant Director of Pharmacy, Valley Baptist Medical Center
Research Interests
Information Technology in acute care pharmacy practice
Rules-based decision support (and cross-platform interoperability)
Methods for real-time global problem identification in EMRs (and cross-platform interoperability)
Prescription drugs imported into the United States for personal use (the quality of Mexican drug products and its impact on healthcare in the United States)
Workload analysis and staffing measures in clinical pharmacy practice
Workload analysis and staffing measures in acute care hospital pharmacies
Teaching Interests
Clinical pharmacy practice
Pharmacy Informatics
Medication safety