VA Texas Valley Coastal Bend Health Care System PGY-2 Psychiatric Pharmacy Residency
About the PGY-2 Psychiatric Pharmacy Residency
Our residency is a 12 month, full-time program that provides one resident an intensive experience in delivering mental health services to the Veteran population in South Texas. The majority of the resident's outpatient training will take place at the Corpus Christi Specialty Clinic and the Corpus Christi VA Outpatient Clinic, which are located less than 1 mile apart in Corpus Christi, Texas. The inpatient experiences will be coordinated with the Central Texas VA Healthcare System (CTVHCS) in Waco, TX, which is ~4 hours (283 miles) away from Corpus Christi.
The purpose of the residency program is to prepare the pharmacist clinician to obtain a position as a Mental Health Clinical Pharmacy Specialist and to become board certified in psychiatric pharmacy.
Residency Facts
Location: VA Texas Valley Coastal Bend Healthcare System (VATVCBHCS), Corpus Christi, TX
Application Deadline: January 4
Start Date: Last week of July
Number of Positions: 1
Estimated Stipend: $44,994
Residency Curriculum
Required
Outpatient
• Behavioral Health Interdisciplinary Program (3 months)
• Primary Care-Mental Health Integration (2 months)
• Pain Management (1 month)
Inpatient
• Acute Inpatient Psychiatry* (3 months)
*offered through CTVHCS in Waco, TX
Longitudinal
Education & Professional Development
• Journal Clubs
• Case Presentations
• MH Topic Discussions
• VISN 17 MH didactic presentations
Practice Management
• Research/Quality Improvement
• Medication Use Evaluation
• Clinical Pharmacy Consultation
 Electives
• Intensive Community Mental Health Recovery/ Rural Access Network for Growth Enhancement Clinic
• Advanced PCMHI
• Substance Use Disorders
• Geriatric Psychiatry/Home-Based Primary Care
How to apply
All application materials should be submitted through ASHP PhORCAS.
NMS code: 785266
Application Requirements
US citizenship
Three letters of reference
Personal statement
Curriculum vitae
Official pharmacy school transcript
Expected completion of ASHPaccredited PGY1 residency program
Residency Contact Information
Lindsey Binns, PharmD, BCPP
PGY2 Psychiatric Pharmacy Residency Program Director
VA Texas Valley Coastal Bend HCS Corpus Christi Specialty Clinic
lindsey.binns@va.gov
Current Resident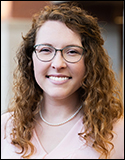 Aubree Bast, PharmD
PGY2 Psychiatric Pharmacy Resident
EDUCATION
Texas Tech University Health Sciences Center School of Pharmacy
PGY1: VA Texas Valley Coastal Bend
CONTACT