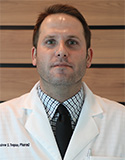 Andrew
S.
Tenpas
, PharmD, RPh
Clinical Assistant Professor of Pharmacy Practice
Contact
Texas A&M Irma Lerma Rangel School of Pharmacy
1010 W. Ave. B
Kingsville, TX 78363
atenpas@tamu.edu
Phone: 956.618.7100

Education and Training
University of Florida College of Pharmacy, Department of Pharmacotherapy & Translational Research, Gainesville, FL, PGY2 Ambulatory Care Pharmacy Residency , 2020-2021
UnityPoint Health, Cedar Falls, IA, PGY1 Community Pharmacy Residency, 2019-2020
University of Wisconsin-Madison, School of Pharmacy, PharmD, 2019
Professional Certifications
Ambulatory Care (Specialty Area)
Research Interests
Advanced clinical service development and sustainability
Chronic care management (CCM) in ambulatory care settings
Inappropriate medication usage and falls risk in aged patients
Coding, billing, and payment for pharmacy services
Teaching Interests
Pharmacotherapy
Ambulatory Care
Chronic disease state management
Pharmacy education and leadership
Awards, Recognition and Service
ASHP Section Advisory Group (SAG) on Ambulatory Care Pharmacotherapy (2021-2022)
ACCP Ambulatory Care PRN Mentorship Program (2021-2022)
ACCP Task Force on Career Transitions (2021-2022)
Representative Publications
Tenpas A, Dietrich E. Simplifying medical decision-making for clinical pharmacists. Res Social Adm Pharm. 2021 Jul 31;S1551-7411(21)00284-9. doi:10.1016/j.sapharm.2021.07.026.
McElhannon M, Vascimini A, Tenpas A, Dietrich E, Canupp HC. Section 5: integrating learners in telehealth. In: Strategies for establishing pharmacy telehealth practice models in ambulatory care settings. Edited by: DeRemer CE. Published by American Society of Health-System Pharmacists (ASHP). In process.