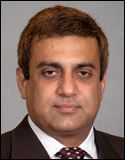 Associate Professor of Pharmaceutical Sciences
Interim Director of Program Development
Contact
Texas A&M Irma Lerma Rangel School of Pharmacy
1010 W. Ave. B
Kingsville , TX 78363
mnutan@tamu.edu
Phone: 361.221.0746
Fax: 361.221.0793

Education and Training
Texas Tech University Health Sciences Center, PhD, Pharmaceutical Sciences, 2004
University of Dhaka, Bangladesh, Master of Pharmacy, 1997
University of Dhaka, Bangladesh, Bachelor of Pharmacy, 1994
Research Interests
Development of extended release in situ implant formulations
Characterization of polymers for controlled drug release
Development of coated and matrix systems for controlled drug delivery
Study of oral delivery of protein and peptide drugs
Improving bioavailability of lipophilic drugs
Teaching Interests
Pharmaceutical calculations
Pharmaceutics
Pharmaceutical compounding
Biopharmaceutics
Pharmacokinetics
Representative Publications
*Rahman Z, Dharani S, Charoo NA, Nutan MTH, Khan MA. "Abuse Deterrent Formulations for Reducing Misuse and Abuse of Prescription Opioids". In: Drug Abuse: Addiction and Recovery. Guilherme E, Pinto IC , Tomás CC, Roque F, Vaswani M, Nagy N, Maviglia M (Eds). Open Access eBooks, Wilmington, DE, Chapter 3 (2017).
Hagbani TA, Veronin MA, Nutan MTH, *Nazzal S. Can the surface color of pharmaceutical tablets be used as a unique product identifier? Journal of Drug Delivery Science and Technology, 37(February):141-146, 2017.
*Dawaba HM, Samy AM, Fetouh MI, Abd-Allah FI, Nutan MTH. Evaluation of stability, cellular uptake and anti-tumour activities of an optimized curcumin solid lipid nanoparticles formulation. Al-Azhar Journal of Pharmaceutical Sciences, 52(September):192-207, 2015.
*Abd-Allah FI, Dawaba HM, Samy AM, Nutan MTH. Application of solvent injection method to develop stable, sustained release solid lipid nanoparticles of curcumin. International Journal of Development Research, 4(12):2734-2742, 2014.
*Nutan MTH, Demps EL. Online assessments in pharmaceutical calculations for enhancing feedback and practice opportunities. Currents in Pharmacy Teaching and Learning, 6(6):807-814, 2014.