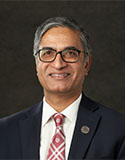 Mansoor
A.
Khan
, PhD, RPh
Acting Dean
Regents Professor of Pharmaceutical Sciences, and
Presidential Impact Fellow
Contact
Texas A&M Irma Lerma Rangel School of Pharmacy
Mail Stop 1114 159 Reynolds Medical Building
College Station, TX 77843
mkhan@tamu.edu
Phone: 979.436.0561
Fax: 979.436.0087

Education and Training
St John's University, College of Pharmacy and Allied Health Professions, New York, PhD in Pharmaceutics (focus on industrial pharmacy and biopharmaceutics), 1992
Idaho State University, Masters of Science in Pharmaceutics (focus on physical pharmacy and drug delivery systems), 1988
Andhra University, India, Master of Science in Pharmaceutical Technology, 1984
Kakatiya University, India, Bachelor of Science in Pharmacy, 1982
Professional Certifications
Professional Licensure Registered Pharmacist NY State Lic. # 44017 - Active
Research Interests
Formulations design and development
Biopharmaceutics
3D printing (led the FDA New Drug Review Team that approved the first 3d-printed product on August 3, 2015)
Awards, Recognition and Service
American Association of Pharmaceutical Scientists (AAPS) elected chair of pharmaceutics and drug delivery (PDD)
American Association of Pharmaceutical Scientists (AAPS) founding chair of formulations design and development (FDD)
Editorial board of Pharmaceutical Technology, International Journal of Pharmaceutics, AAPSPharmsciTech, and the Drug Delivery and Translational Research
FDA representative to European Medical Agency, EMA (pediatric working group, and pediatric formulations committee), WHO (generic quality and pediatric guidelines committee), USP (expert panel on dosage forms), FIP (program chair and keynote speaker), DOD/DARPA (continuous manufacturing advisory panel), Clinton HIV/AID panel (dosage forms expert), NIH (scientific advisory board of nanotech characterization lab, several study sections and PI in the FDA:NIH IAG), and NASA (PI of the recent FDA:NASA Research Cooperative Agreement)
American Association of Pharmaceutical Scientists (AAPS) and American Association of Indian Pharmaceutical Scientists (AAiPS) Fellow
FDA/CDER 2015 outstanding ANDA reviews award
More than ten FDA/CDER Team Excellence Awards, Scientific Achievement Awards, and Exemplary Performance Awards
Outstanding alumni award from St. Johns University, College of Pharmacy
Excellence Award from Texas A&M University Health Science Center
2012 AAPS Research Achievement Award in Formulations Design and Development
Representative Publications
Woodcock, J., Khan, M., & Yu, L. X. (2012). Withdrawal of generic budeprion for nonbioequivalence. New England Journal of Medicine, 367(26), 2463-2465.
Norman J, Madurawe RD, Moore CM, Khan MA, and Khairuzzaman A., A new chapter in pharmaceutical manufacturing: 3D printed drug products, Adv Drug Del Rev, 2016, S0169-409X(16)30077-1.
Xu, X., Gupta, A., Al-Ghabeish, M., Calderon, S., and Khan, M*.,  Risk-based In Vitro Performance Assessment of Extended Release Abuse Deterrent Formulations , Int. J. Pharm., 2016. 16, 500 (1-2), 255-67.
Hershenson S, Martin-Moe S, Khan MA, Jameel F (Editors), Biopharmaceutical Drug Product Development and Quality by Design, ISBN 978-1-4939-2316-8, New York: Springer, 2015, AAPS Press.