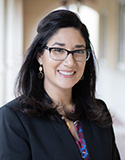 Assistant Dean of Student Affairs
Contact
Texas A&M Irma Lerma Rangel School of Pharmacy
1010 W. Ave. B
Kingsville, TX 78363
galindo@tamu.edu
Phone: 361.221.0608
Fax: 361.221.0790

Biography
Dr. Amanda Galindo joined the Texas A&M Irma Lerma Rangel College of Pharmacy in July of 2017 as the Director of Student Success.  Since then, she has transitioned to Assistant Dean for Student Affairs for the College of Pharmacy beginning in that role in December of 2017. Previous to the College of Pharmacy, she served as the Director of Recruitment and Admissions since January of 2014 at The University of Texas Health Science Center School of Dentistry at Houston. Her 20 year career in education includes serving as executive director for the Center for Student Success, pre-health professions coordinator, senior academic advisor II, and university student success lecturer at Texas A&M University–Kingsville. She also has previous experience as a secondary and elementary public school educator in the Corpus Christi, Texas area. 
Tracks 1 and 2 will help undergraduate pre-pharmacy students ultimately become a competitive pharmacy school applicant
Tracks 3 and 4 will help admitted Rangel College of Pharmacy students successfully transition to the rigors of the PharmD education and become a competent practicing pharmacist
Dr. Galindo is proud to be a 
first generation
 student and education has always been a passion of hers. She strives to serve as a mentor and advisor for students to reach their own career and educational goals so they too can make strides opening opportunities for their families and generations to come.
Education and Training
Texas A&M University-Kingsville & Texas A&M University – Corpus Christi Joint Program, Doctor of Education in Educational Leadership, Cognate Area: Higher Education Administration, 2012
Texas A&M University-Corpus Christi, Master of Science in Counseling, Cognate Area: School Counseling, 2006
Texas A&M University-Corpus Christi, Bachelor of Science, Major: Biology with Secondary Education Certification, 2003
Professional Certifications
Texas State Board Educator Certification, valid since 2007 in Life Sciences
Texas State Board Educator Certification, valid since 2008 in School Counseling