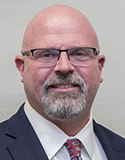 Assistant Dean for Finance and Administration
Contact
Texas A&M Irma Lerma Rangel College of Pharmacy
1010 W. Ave. B
Kingsville , TX 78363
rbenfield@tamu.edu
Phone: 361.221.0681
Fax: 361.221.0790

Biography
Benfield attended Baylor University in Waco, Texas, where he earned a Bachelor of Science in biology and a Master of Science in clinical gerontology. He began his career in the Texas Medical Center in Houston where he worked at the Baylor College of Medicine and The Methodist Hospital as a clinical and basic science research coordinator. He remained with Baylor and Methodist for nearly a decade and became the administrative research director for the Methodist DeBakey Heart Center, Cardiac Cath Lab Research Center. During his tenure in this role, he earned an MBA in Finance from the University of Saint Thomas in Houston.
Following graduation from the University of Saint Thomas, he became the clinical protocol administrator for the department of GI Medicine and Nutrition at the UT MD Anderson Cancer Center. As the clinical protocol administrator, Benfield provided strategic planning, compliance, and oversight for grants and protocol initiatives, and was responsible for more than $30 million in federal and private grants and contracts. He developed and monitored all aspects of a cross-departmental system of care.
Benfield managed large-scale, multiple site research activities including implementation of clinical trials, drug accountability, regulatory compliance and quality assurance. 
In 2007, Benfield moved to South Texas to become the assistant dean for finance and administration at the newly formed Texas A&M Irma Lerma Rangel College of Pharmacy.  Currently, he is enrolled in the doctoral program for higher education administration through the University of Phoenix.
Education and Training
University of Phoenix, Phoenix, PhD, Higher Education Administration, Currently enrolled
University of St. Thomas, Houston, MBA, Finance, 2002
Baylor University, Waco, Texas, Master of Science, Clinical Gerontology, 1994
Baylor University, Waco, Texas, Bachelor of Science, Biology, Minor Chemistry, 1993